Like we did in the 2015 and 2019 general elections we are again sampling the opinion of Nigerians regarding the choice of our next president with just about 7 days left to the February 25th Presidential polls.
About 18 candidates are campaigning for the top job, but NigerianEye identified four major candidates projected to have a realistic chance of winning, according to several surveys and opinion polls.
These candidates are, Bola Ahmed Tinubu, 70,who is standing for the governing All Progressives Congress (APC) party, Atiku Abubakar, 76, is running on behalf of the main opposition People's Democratic Party (PDP). He has run for the presidency five times before, Peter Obi, (Labour Party) a 61-year-old former Anambra state governor who is hoping to break up the two-party system which has dominated Nigeria since 1999 with a buzzing cult followership known as the "OBIdients" and a darling of the North-West region, Rabiu Kwankwaso (NNPP) the 66-year-old former governor of Kano state
The big question is. . .
Who do you think will win the 2023 presidential elections?
Kindly VOTE below...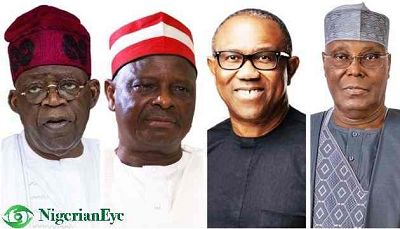 NigerianEye Opinion Poll: Who Will Win The February 25th Presidential Elections?