A Dashcam footage of the moment that preceded the Lagos tanker's explosion, yesterday, has surfaced.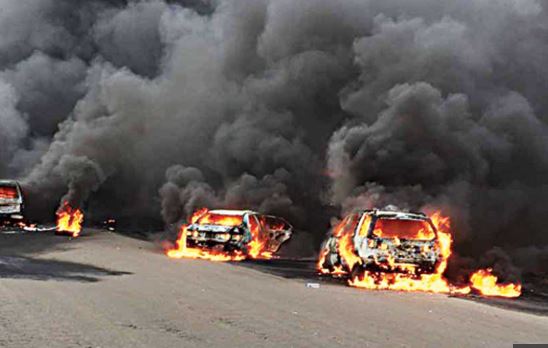 In the video, the obviously scared driver could be heard telling someone: " My God, my God. Funmi, hold on, hold on. An accident will happen now.
The trailer has lost control. Hey, it has spilled petrol. Thank God I have escaped. Ha, it has it has spilled petrol. I have escaped."
Watch Video Below:
This video also corroborates with an eyewitness report who escaped the fire incident yesterday.
Recall that no fewer than nine persons lost their lives on Thursday after a tanker exploded on Otedola Bridge in Lagos.
The Federal Road Safety Corps, FRSC, in a statement on its official Twitter handle also confirmed that 54 vehicles were burnt to ashes in the incident.
Click to signup for FREE news updates, latest information and hottest gists everyday
Advertise on NigerianEye.com to reach thousands of our daily users