Residents of an Abuja estate close to the hill where two jets belonging to the Nigeria air force crashed on Friday morning, have narrated their experience.
The pilots of the jets were rehearsing ahead of the October 1 Independence Day celebrations when the unfortunate incident happened at Katampe community along Kubwa expressway in the nation's capital.
Speaking at the scene of the crash, a witness who preferred not to be named, said the jets would crashed into the estate close to the scene of the accident.
He said the ill-fated jets were flying at a very close range when one of them suddenly lost control and hit the other.
Another witness said the two occupants of the jets managed to open the safety parachutes and escaped while the third person who could not activate his parachute crashed into the bush.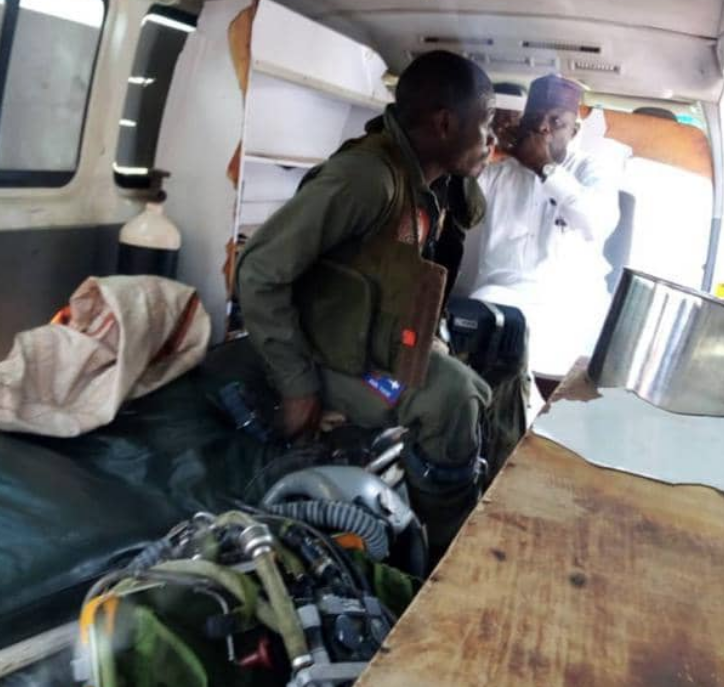 One of the pilots rescued from the ill-fated aircraft
"The two pilots made mistakes , they hit themselves and we heard a loud noise. The next thing was that one of the jet began to somersault when he lost control," he said.
"The parachute of one of the pilot could not open for him to escape but two were able to come out before the crash."
The two survivors were later rescued by air force medical personnel and taken to the hospital.
It was gathered that one of the two persons who was rescued from the scene of the accident later died in the hospital.
The identity of the airman who died at the scene was given as Baba-Ari, while the two pilots ejected were listed as Abatuba and Ambi.
It is unclear if Abatuba or Ambi was the one who died in the hospital as Ibikunle Daramola, spokesman of the air force, concealed his identity in a terse statement.
"It is with a heavy heart that I regretfully announce that one of the pilots who successfully ejected from one of the F-7Ni aircraft that crashed earlier today has passed on. May his soul RIP. Additional details on the incident will be communicated later. Thank you," the statement read.
Military personnel have cordoned off the site of the crash where smoke was billowing from when the place was visited on Friday afternoon.
Residents who thronged the scene were driven away by the armed military officers there.
KINDLY DROP A COMMENT BELOW