Two years ago, the Economic and Financial Crimes Commission (EFCC) cleared Danladi Umar, chairman of the Code of Conduct Tribunal (CCT), of allegations of fraud levelled against him.
A group called Anti-Corruption Network had written a petition against Umar, accusing him of demanding a bribe of N10 million from one Rasheed Taiwo, a former customs official who was facing false assets declaration charges before the CCT.
Umar was also accused of receiving N1.8 million of the N10 million bribe through one of his personal assistants, Gambo Abdullahi.
This was said to have happened in 2012.
On April 20, 2016, the commission wrote a letter to the secretary to the government of the federation, absolving Umar of any wrongdoing.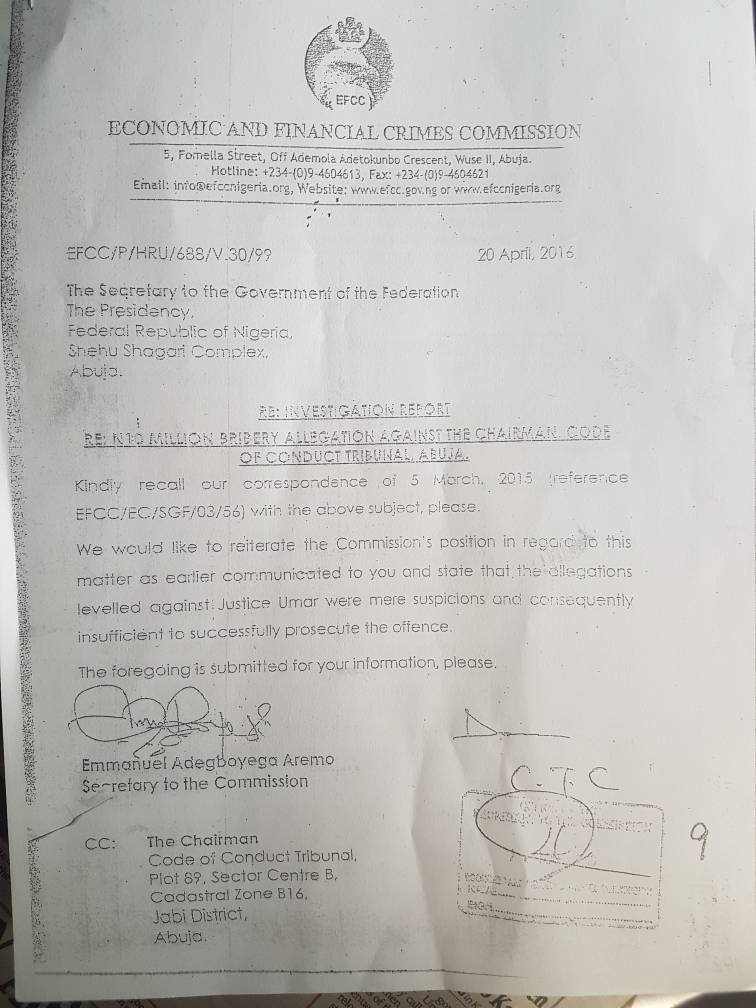 The letter with the title "Investigation into N10 million bribery allegations against chairman of the Code of Conduct Tribunal" was signed by Emmmanuel Aremo, secretary of the commission.
"The allegations levelled against Justice Umar were mere suspicions and consequently insufficient to successfully prosecute the offence," the letter read.
When the allegation was raised during the trial of Senate President Bukola Saraki, Umar confidently said he had been cleared.
Saraki, through Ajibola Oloyede, his lawyer, had asked Umar to disqualify himself from the trial.
Oloyede argued that Umar could be biased because he was under investigation by the EFCC.
He said the tribunal chairman would be subject to the control of the EFCC since the anti-graft agency was the body that brought Saraki before him for trial.
Umar, however, stood his ground that he had been cleared of the allegation by both the EFCC and the AGF.
In June, Umar found Saraki not guilty on all the 18 counts of false assets filings when he was governor of Kwara state between 2003 and 2011.
In December, the court of appeal in Abuja affirmed the conclusion of the tribunal on all but three counts.
Saraki's returned to the tribunal on Tuesday, expressing optimism of a favourable outcome.
On Friday, Festus Keyamo, a senior advocate of Nigeria (SAN), filed a two-count charge of fraud against Umar, on behalf of the EFCC.
The suit was filed at a federal high court in Abuja.
The charge has the same substance as the grounds for which the agency had earlier cleared Umar.
KINDLY DROP A COMMENT BELOW