Stephanie Otobo, a Canada-based strip*er and musician has dismissed a media report suggesting that she was lured by Apostle Johnson Suleman to confess to having lied against the preacher over a s*x scandal that rocked the internet in 2017.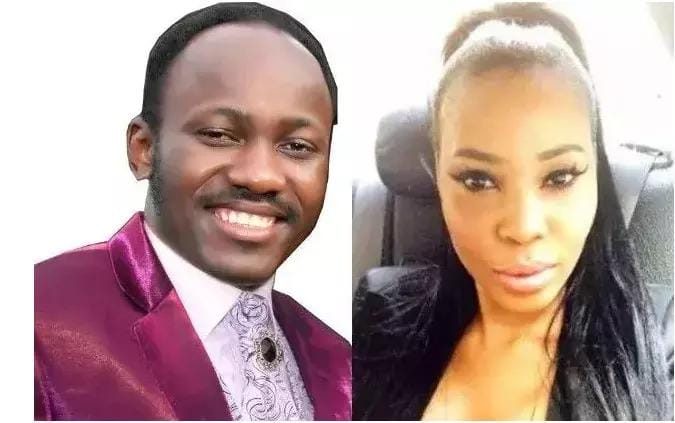 Otobo was reacting to a a video published by a popular online medium earlier on Tuesday, January 30, which gave the impressing that she has recanted her earlier statements.
Speaking exclusively to Vanguard, she said: "I was not lured, kidnapped, forced or paid to confess. I confessed for my own peace of mind and my well-being as a human being."
When prodded further, Otobo said: "How much can the Apostle pay me that will match what I was paid, and I am still being offered more, by my sponsors?"
Asked what prompted her sudden desire for "peace of mind," Otobo said she has had sleepless nights for several months over the role she played as the main character in the s*x scandal. She also accused her alleged sponsors of blackmail, stating that the said video was made in June 2017 in the Canada home of a certain Chidi, the guy she claimed was responsible for most of her videos last year.
Otobo said the well-rehearsed video was made as an insurance tool against her in the likely event that she ever exposed the plot by her manipulators.
"That video was made in June 2017 and it was made by my manipulators so that they would have something against me in case I ever told the truth," she said.
She said majority of the readers of the online medium also mentioned the possibility of foul play. One of them said the online medium "was in such a hurry, they failed to edit the part where the girl mentions the date that video was made (June 2017)."
She also said that another commentator wondered why anybody would make a video and save it for almost one year in anticipation of such a day, if it was not a deliberate scheme against the Apostle.
The Urhobo-born musician also expressed fears about her security as she vowed to unmask her manipulators in court rather than on social media.
"For those of you asking me to mention names, sure, I will mention names in court because they have been sending emails and texts offering me a lot of money but I cannot be manipulated anymore," she said.
She urged all parties involved in the scandal to move on as she has found peace with God and herself.
Last year, Apostle Suleman was the subject of a s*x scandal that went viral on social media.
But in a rather shocking turnaround recently, his main accuser, Stephanie Otobo appeared on the altar of Omega Fire Ministries in Auchi to confess to having been used by "powerful politicians and pastors to implicate Apostle Suleman."
"I was made to tell too many lies, I was chocking. The burden of guilt was too much for me to carry. If I did not correct this grave sin, I would never have obtained the forgiveness of the body of Christ and even in the life hereafter," she said.
KINDLY DROP A COMMENT BELOW