The Nigerian military seems ready to go any length to defend the progress it has made in the ongoing war against insurgency in the north-east.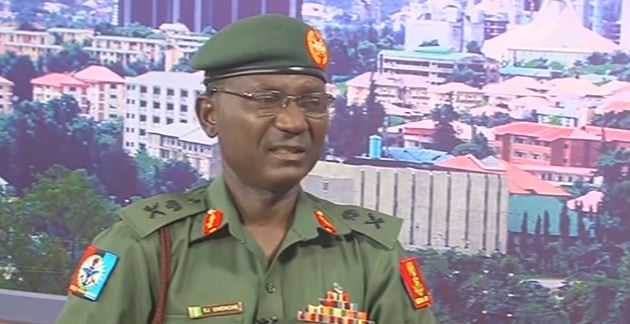 With the debate on the correctness or otherwise of the $1bn approved by governors to fight the Boko Haram war, the military has taken an unusual step in explaining why the decision is "the best" for the country.
John Enenche, director of defence information, appeared on a Channels TV programme on Monday, to talk about the funds and why the military needs it.
And he brought with him the most unusual of companions: two military arms — an Ak-47 and another unidentified rifle.
His reasons? "I brought the arms to the studio to make Nigerians understand the efforts that have been made so far with what, among several other things, that the armed forces of Nigeria have used to prosecute the war against insurgency and terrorism in the north-east," he told the anchor.
Enenche further said while one of the arms — the Ak-47 — is outdated, the other is what "every soldier has as a personal weapon" when involved in a fight against terrorism.
"One of them is Ak-47, which is what we have been using to prosecute a special war. Ak-47 is used to prosecute a conventional operation," he said.
"The other one, I will not mention the name, is obviously different in every way. That is the kind of equipment necessary to prosecute the war in the north-east. The differences between the two are miles apart.
"If it were to be in Russia for instance, this sophisticated weapon is supposed to be the personal weapon of every soldier to confront insurgency and terrorism.
"It has special features. What is the capacity of the magazine? 30. What about the telescopic sights? Very, very accurate. Yet, the armed forces of Nigeria has been prosecuting the war against insurgency with Ak-47 of the second world war in the 18th century. And we have come this far."
YOU MIGHT ENJOY READING