President Muhammadu Buhari says his decision to back Akinwunmi Adesina to emerge president of the African Development Bank (AfDB) is an indication that he belongs to everybody.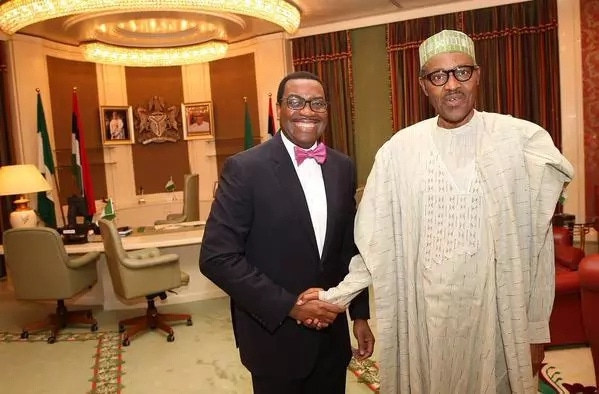 During his inauguration on May 29, 2015, Buhari had said "I belong to everybody and nobody" but his critics have said his appointments do not reflect the statement.
Adesina, who is the first Nigerian to head the continental bank, served as a minister in the Peoples Democratic Party (PDP)-led government.
According to Buhari, he did not consider Adesina's ties to the former ruling party when he recommended him for the AfDB job.
While interacting with the Nigerian community in Abidjan, Cote d'Ivoire on Tuesday, he said: "The President of the African Development Bank (AfDB), who forgot to mention that he was serving in the PDP government as minister but all the same I picked him and recommended him for AfDB.
"I think it emphasised what I said during my swearing in that I'm for everybody, I'm for nobody. As long as you are a Nigerian be prepared to be on the receiving end from me."
Adesina had earlier expressed gratitude to Buhari for backing him to get the position. He said Nigeria's economy gained momentum after the president's health improved.
"Mr President as you must have noticed, there is a very strong correlation between your health and the economy and when you came back the economy picked up after that. So we wish you great health so that the economy can continue to pick," he said.
"I also want to congratulate you for the economic growth and recovery plan that you have put in place and the incredible plan that you have put in place to bring the economy out of recession and also in terms of the fact that Nigeria has moved up in the World Bank ease of doing business index.
"I also want to thank you for your leadership on the Boko Haram issue because to draw investments into Nigeria, you absolutely have to have security. I think that securing our borders is very very important thanks to your leadership for that. I also thank you for all the efforts you have made in the Lake Chad Basin Area.
"I was with you in Paris where you led the efforts in reviving the Lake Chad Basin. As you know Mr President, the bank is very strongly behind that. We put in $250 million to support the northeast of Nigeria rebuilding. I know you were criticised for rebuilding but I don't see anything wrong, if things get destroyed they have to be rebuilt."
KINDLY DROP A COMMENT BELOW