The Lagos State Police Command on Wednesday demolished six shrines belonging to the dreaded Badoo cult in Ikorodu area of the state.
The state Commissioner of Police, Imohimi Edgal, led a team of policemen and bulldozers to Agbowa in Ikorodu to demolish six shrines as part of efforts to rid the communities of Badoo members.
In the last two years, Badoo has killed several people. In some instances, it has completely exterminated many families.


The state Police Public Relations Officer, ASP Olarinde Famous-Cole, confirmed the raid on the shrines, believed to be used by members of the ritual cult group.

Famous-Cole said a suspect, who claimed to be a native doctor, was arrested.

He identified the name of the suspect as James.



Famous-Cole said two victims were rescued from one of the shrines.

According to Edgal, such shrines are used for ritual purposes.

He said most people, who were unfortunate to board wrong commercial buses, are usually taken to such shrines.

Edgar said the shrines wouldn't have been discovered if not for the information given to him and his men by eminent people in Agbowa.
Edgal said: "We are in the deep forest of Agbowa.
"Our visit here is based on a long collaboration with eminent persons of Ikorodu, who in partnership with the police, volunteered information concerning existence of illegal shrines, where kidnappers, ritual killers and hoodlums kidnap people and lure them under false pretenses, to defraud them.
"Sometimes, these unsuspecting victims lose their lives.
"We have three of such shrines in Agbowa alone.
"This is the first one.
"I have the mandate of all traditional rulers in Ikorodu and indeed the Lagos State Government not only to uncover shrines used for committing crimes, but also to destroy them.
"This is why I always tell my officers and men to build confidence and trust with members of the public.
"That's a basic fundamental aspect of community policing.
"Eminent people gave this information, leading to uncovering of three shrines in Agbowa."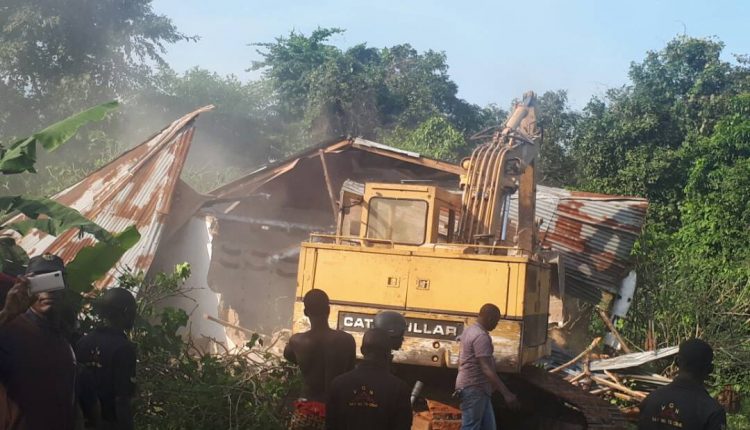 Recalling the genesis of the investigation that culminated in the discovery of the shrines, Edgal said: "We have been having reports that people are kidnapped in Lagos, either while trying to move from one location to another, they are unfortunate to board the wrong buses, such people are often brought to shrines like this.
"In order to curb these trends, I decided to partner with the eminent people in Ikorodu.
"Information I got was that most of these victims are brought to Agbowa.
"I'm happy to announce that we have uncovered three of such shrines in Agbowa.
"All the shrines would be demolished.
"We were on time yesterday (Tuesday).
"When we got here yesterday, the owner of this shrine was already working on some victims.
"We rescued the victims and the owner of the shrine had been arrested."
According to Famous-Cole, the location, where the demolitions were carried out, was where Badoo members were believed to be operating.
He said: "We worked with information that we got.
"We discovered about five shrines, which had been destroyed.
"The Commissioner of Police has debriefed the victims.
We moved from one shrine to the next.
"We got this information through members of the public.
"We destroyed the shrines.
"The shrines were located at Agbowa area by Kosi area of Ikorodu.
"The operation was led by the Commissioner of Police and other agencies like the Task Force officials, Department of State Services and the local vigilance group.
"More than four shrines were destroyed.
"So far, as we know, those shrines are for ritual and fraudulent activities.
"The CP uncovered six shrines and they had been destroyed.
"He also rescued two victims and one suspect called James.
"The shrines are used for ritual purposes, like the recent ritual murder in Ikorodu.
"The rescued victims went in search of healing.
"The information we got is that the victims were about to be used for ritual purpose.
"The six shrines are all at Agbowa.
"We were not able to get more suspects, but we destroyed all the shrines.
"It was a rescue operation that led to destruction of the shrines.
"It was investigations of the Badoo killings that led to these discoveries.
"Ever since the Badoo killings, there had been police activities in Ikorodu.
"We also got information from members of the communities, who told that such shrines are used for ritual purposes."
The police also rescued the couple pictured above from one of the shrines in Ikorodu in Lagos state. The couple had reportedly gone to the town for spiritual help but on getting to the shrine, they met with the owner, Adedeji James, who planned to use them for ritual purposes. Acting on a tipoff, the state police commissioner stormed the shrine and rescued the couple. The discovery necessitated yesterday's demolition of more shrines in the area. See more photos below: