Former Vice President, Atiku Abubakar, has responded to a photo circulating online of him eating with some young girls where it was alleged that the gathering was a strategy for 2019 elections.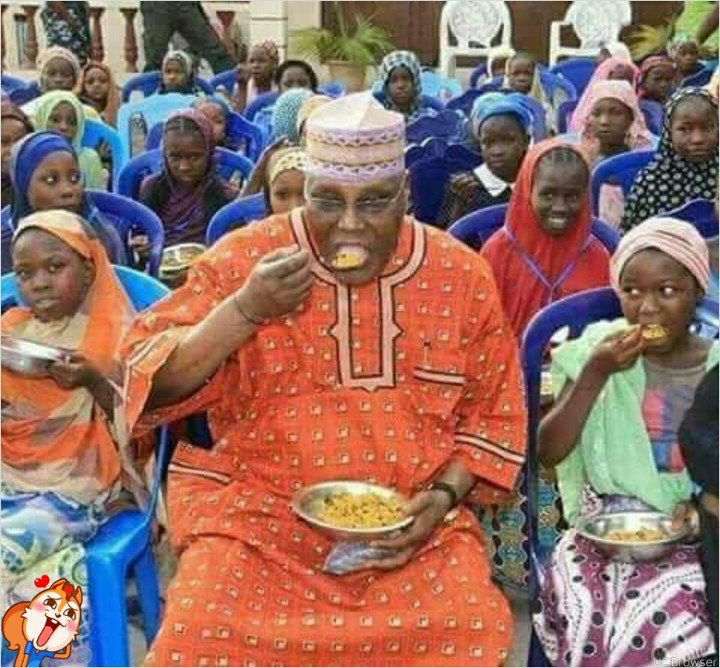 The photo which was shared online on Thursday had the past president eating with a group of young girls.
Atiku has, however, denied claims stating that the picture was for campaign, saying it was taken 2015 for a feed project for IDP girls in Yola to encourage them to go back to school.
According to him, the picture was used to give hope to IDPs, therefore it should not be used to make jokes about elections.
He wrote:"This photo was taken 2 years ago, to promote a feed & read project for IDP girls in Yola.
"I ate to encourage parents that the food was good.
"The parents of these IDP girls had little incentive to send them to school, providing food was a big draw to bring the girls to classes.
"I ate food with these girls to show the food was safe. I do this every time I visit. It might be a joke for some, but not for these girls.
"As a public person, I'm used to insults, but before you make jokes, remember that for these young girls, this programme was their only hope."
— GIDITRAFFIC (@Gidi_Traffic) August 8, 2017
This photo was taken 2 years ago, to promote a feed & read project for IDP girls in Yola. I ate to encourage parents that the food was good.

https://t.co/uw1DzxdlW2

— Atiku Abubakar (@atiku) August 10, 2017
The parents of these IDP girls had little incentive to send them to school, providing food was a big draw to bring the girls to classes.

— Atiku Abubakar (@atiku) August 10, 2017
I ate food with these girls to show the food was safe. I do this every time I visit. It might be a joke for some, but not for these girls.

— Atiku Abubakar (@atiku) August 10, 2017
As a public person, I'm used to insults, but before you make jokes, remember that for these young girls, this programme was their only hope

— Atiku Abubakar (@atiku) August 10, 2017